Redwing Safety Shoes, Redwing Rigger Boots, 100% Cotton Coveralls, Nomex / Brevano Flame Retardant Coveralls, Winter Jackets, Parka.
Altair Gas Detectors, Air Express Scba, Advantage Respirators With Cartridge, 'v' Gard Helmets, Visors,
Victim Location Contra-Band Detection Systems, Life Detection Equipment,
Thermal Imaging Cameras, Gas Tight Suits. Altair Gas Detector, Altair 4x Gas Detector, Altair 5x Gas Detector Altair
5x PID Detector, VOC Detector. Confined Space Entry Kits, Tripod, SRL, Retractable Blocks.
Latchways / Lynx. Height Safety Equipment, Full Body Harness, Rescue & Maintenance Kit,
Ascender / Descender, Fall Arrestor, Grip Descender,
Polyamide Ropes, Lifeline, Anchorage line, Safety Nets, Man Transfer Personal Baskets, Etc.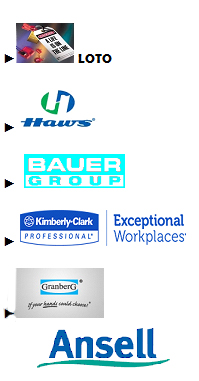 Spill Containment And Dispensing Solutions Products. PRENCO ACID ALKALI AND OIL SPILL KIT , BUNDS . OIL/CHEMCIAL SPILL KIT.
HASP, Circuit Breaker Lockout, Ball Valve Lockout, Gate Valve Lockout, LOTO Tags, Padlock.
HAWS Eye Wash Fountains, Safety Showers, Combinations, Decontamination And Portable Eyewash.
BAUER BREATHING AIR KOMPRESSORS & SPARES
Kleenguard / Kimtech / Jackson GLOVES. WYPALL General Purpose / Low Linting Wipers, KIMTEX* Wipers . KIMCARE* NTO With Grit A
Post Work Cream, Barrier Cream TOBIT Kevlar Gloves, SAFETY JOGGER PALM Coated Gloves, Cut Resistant Gloves,
TOBIT ESAB Welding Leather Gloves, Polka Dotted Gloves, Cannadian Rigger Gloves, Welder's Gloves, Nitrile Disposable Gloves,
Butyl And Neoprene Industrial Gloves. ANSELL GLOVES / MICROGARD SUITS / SOLVEX / ANSELL EDGE / ANSELL TRELLCHEM / MICROCHEM GAS
TIGHT CHEMICAL SUIT, OIL GRIP GLOVES. RINGERS RIGGER IMPACT HI VIZ / GRANBERG HEAVY DUTY IMPACT GLOVES. CUT KNIT 5,
RIGGER GLOVES, 115.9007 GLOVES, 115.9006, 115.9001, ROUGHNECK 269, ROGHNECK 267, ROUGHNECK 299 GLOVES
ANTI VIBRATION GLOVES / IMPACT GLOVES /CUT LEVEL 3 , 4 & CUT LEVEL 5 GLOVE / NEEDLE CUT GLOVES. MPACT2 GLOVES,
RIG LIZARD 2025 / 2021 / 2090 IMPACT GLOVES, GRANBERG 9001 / 9007 / 9011. HYFLEX. EDGE, ALPHATEX, SESNILITE, POLARGRIP,
BARRIER, WORKGUARD, NEOX, SOLVEX, VIBRAGUARD, ANSELL ELECTRICIAN GLOVES.