SAFETY LOCKOUTS & TAGOUTS

Safety Lockouts & Tagouts
Most of the accidents are caused by unexpected energization or start up of machines or equipments or by the uncontrolled release of energy. OSHA Lockout & Tagout standard 29 CFR & 1910.147 & 1910.269 are designed to prevent such accidents and resulting casualty of service and maintenance personnel by controlling unauthorized or accidental use of energy. The colours of the Lockout are as per ANSI Z 353.1.
WHAT IS LOCKOUT / TAGOUT ( LOTO ) ?
A lockout is a method of preventing mishaps by keeping equipment from being accidentally started or switched off. Lockouts are used for - disconnecting switches , circuit breakers , valves or other energy isolation mechanisms & to put them in the safe / off position. A lock is attached, so that the equipment can't be energized.
In a Tagout, the energy-isolating device is placed in the safe position and a written warning is attached to it. Mostly, Lockout and Tagout materials are supplied by the Employers to make their employees answerable & responsible for all their acts / decision taken during the production , maintenance , servicing , installation , disassembling of machines, etc. These are the areas where maximum accidents take place in a unit.
Mechanical Valve Lockouts
TOBIT makes all Valve lockouts of strong polypropylene material, fu dielectric , highly resistant to solvents, chemicals cracking, abrasions, extreme temperature ( -46 deg. C to + 183 deg C.). Ball Valve Lockouts, Universal lockouts for Butterfly Valves, Valve Wheel Lockouts.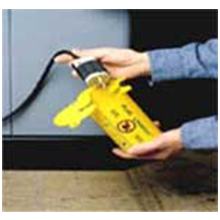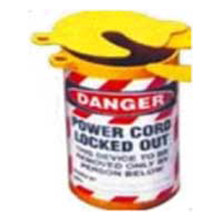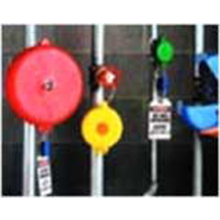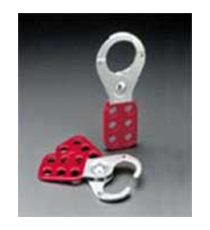 Safety Lockout Hasps made of hi visibility red heavy duty nylon , unbreakable but flexible and can hold 6 padlocks at a time.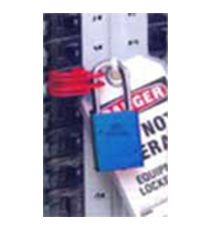 Masterlock Circuit Breaker Lockouts
A Universal design to fit toggles of almost all Single Circuit breaker or Multiple circuit breaker with the bar. It has a grip with hand turning knob to fit on the toggle. A clamping handle tightens the grip on the toggle to give very high holding power. The narrow profile permits side by side breaker Lockouts in a panel. Durable construction of hi – visibility red reinforced polymer.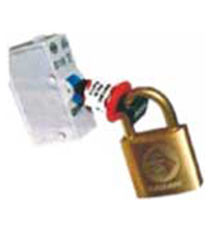 Masterlock Universal Wall Switch Lockout
A specially designmed wall switch lockout for both paddle & toggle switch to be locked in on or off position. It hinges open for unobstructed normal operation of switch . Includes Tagout lable.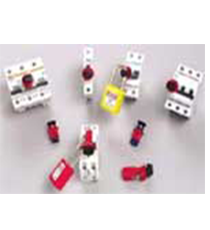 TOBIT Plug Lockouts : PIN IN / PIN OUT / PIN WIDE CIRCUIT BREAKER LOCKOUT :
Made of polypropylene plastic, totally dielectric, resists temperature upto 149 deg C, has a sliding closure and an integrated multiple lockout.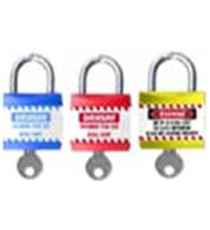 TOBIT Adjustable Cable Lockout
A unique integrated single piece safety hasp and cable. Infintely adjustable for a secure fit every time. Ideal for both multiple circuit breaker panel and side by side gate valve lockouts. It has provisions for 4 personnel safety locks . It has high visibility permanent safety label for identification marking.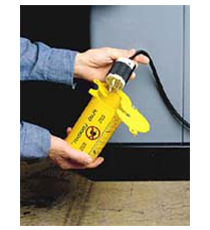 Electrical Plug Lockout (CLO-E)
Yellow colour injection moulded electrical lockout.
Use with any padlock to keep equipment from being plugged in accidentally.
Enclose the plug so that it can't be used.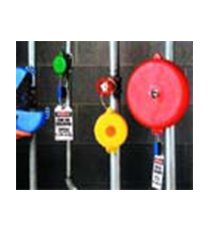 Settable Ball Valve Lockout Made from Special grade of PVC.
Virtually indestructible valve covers.
Once locked, they rotate freely around the hand wheel & prevent the valve wheel from being turned.
The strong polyurethane plastics make them resistant to cracking and abrasion .
They are resistant to extreme weather and temperature conditions.
Available in 5 sizes ( Red colour ) Other colours are available on request - minimum quantity applicable.
Model
Fits valve handle diameter
ES - 02 -GVL
25 to 63.5 mm ( 1" - 21/2" inch)
ES - 04 -GVL
63.5 to 127 mm ( 21/2" - 5" inch)
ES - 06 -GVL
127 to 165 mm ( 5" - 61/2" inch)
ES - 08 -GVL
165 to 254 mm ( 61/2" - 10" inch)
ES - 10 -GVL
254 to 355 mm ( 10" - 13" inch)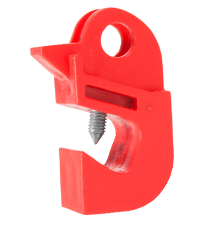 Universal Circuit Breaker Lockouts (UCBL)
Safe & effective method for locking out Miniature Circuit Breakers. The lockout can easily be installed with the aid of a screw driver. It can be used on single & multi - pole breakers. A Padlock on UCBL should be applied to Lockout the MCB.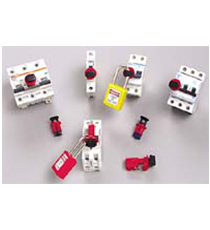 Pin In / Pin Out / Pin out Wide - Circuit Breaker Lockout
Safe & effective method to for locking out Miniature Circuit Breaker lockout.Push button installation - Does not require any tool for installation.Can be applied on all single / Multiple Breakers.A Padlock should be applied to Lockout the MCB.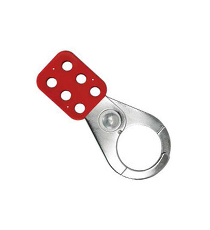 Vinyl Coated SMALL Hasp (VCH-S)
Die cut section made from solid Heavy gauge steel plate.
Joined with Chrome plated aluminium rivet.
Vinyl coated at the lower portion.
Inner dia size : 25 mm.
Each hasp accommodates up to six locks.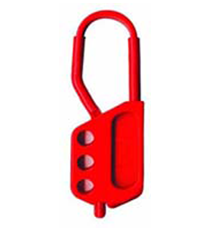 Injection moulded one piece construction.
Made form special grade polyurethane composition in Red colour.
Can be applied to any instrument for locking out.
Each hasp accommodates up to three locks.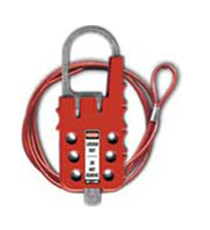 Premier Multipurpose Cable Lockout (PML)
Scientifically made moulded section of PVC
Incorporating solid steel die cut insert for holding the Vinyl coated galvanized steel cable.
Galvanized steel cable with stand more than 100 Kg weight
Can be used for number of applications.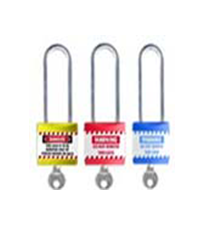 A set of three padlocks supplied with injection moulded Blue / Red & Yellow caps specifically drafted instruction stickers for each lock are provided.
Model : ES-PD-LS3 Padlock with LONG Shackle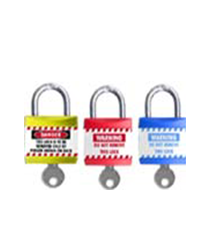 ES-PD-RS3 Padlock with REGULAR Shackle