Breathing Air Compressors
BAUER's Breathing Air Compressor Systems are the gold standard for firefighting, diving, military, offshore, industrial and medical applications where reliable ultra-pure breathing air is required to maintain life safety. Each product within our breathing air portfolio is specifically designed for the end user application ranging from small mobile systems to very large stationary systems operating in fire stations, mobile vehicles, dive operations, shipboard, offshore platforms, industrial plants, etc. Our systems can fit any need from 2.9 scfm charge rate up to 145 scfm charge rate (per compressor system) with fill pressures up to 6000 psig. Our Containment SCBA/SCUBA fill stations are built to exceed the current NFPA standards and including independent certification by a third party laboratory.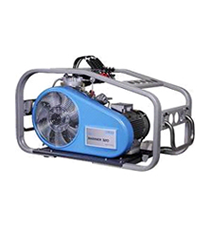 BAUER IE100 high-pressure breathing air compressor
BAUER PE 100-1 high-pressure breathing air compressor
BAUER PE 100 - I breathing air compressor with electric motor / petrol engine / rear view Clean breathing air: Thanks to advanced filter technology from BAUER and the P 11 filter system developed specifically for the PE 100 Legendary reliability: Thanks to the world-proven compressor block of the PE 100 Very long maintenance intervals: They reduce compressor maintenance costs and downtimes to a minimum The PE 100 is by far the smallest and lightest unit in the PE series.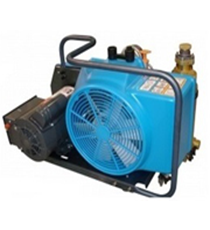 The compact classic among mobile breathing air compressors BAUER JUNIOR II breathing air compressor with electric motor BAUER JUNIOR II breathing air compressor with petrol engine BAUER's most compact mobile compressor Wth compact dimensions and advanced technology Extensive range of applications: For sport divers, shipping, respiratory applications, paintball, sport shooting and many more Really easy to transport: Outstandingly light in weight and easy to handle Durability, reliability, versatility in application and compact flexibility.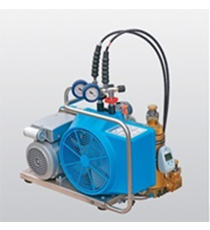 BAUER OCEANUS breathing air compressor with electric motor / petrol engine BAUER OCEANUS high-pressure compressor with power cable
Durable and robust: Frame, handle and safe filling valve made from rust-free material Minimum wear piston rings made from innovative high-tech plastic Impressive performance data: At free air delivery of 140 1/min Really easy to transport: Outstandingly light in weight and easy to handle The OCEANUS impresses with its excellent performance data: despite being almost identical in size, can fill a breathing air cylinder up to 40% faster than the JUNIOR II.
Designed for challenging professional applications, it impresses with its durability, mobility and high free air delivery. the corrosion-resistant base frame made from stainless steel, the OCEANUS is the ideal compressor even for tropical climates. It is used on ships, submersibles and expeditions, and is also suitable foi use as a paintball compressor, sport shooting compressor or mobile fire service compressor. A generous oil reserve in the crankcase and the powerful oil pump mean that operation is also possible even at very oblique angles up to 30° (up to 20° in the petrol version).
This quiet and compact unit can be carried easily by a single person and will fit in almost any car boot.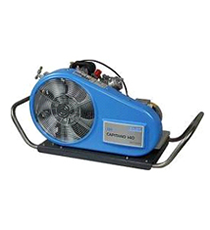 CAPITANO 140-The mobile all-round compressor in excellent professional quality BAUER CAPITANO 140 breathing air compressor with electric motor
Tough: incredibly durable driving gear. Suitable for short-term operation and continuous service Durable and robust: Three-stage construction and industrial roller bearings maximize the service life of the units Protected against corrosion: Wth an ultra-lightweight aluminium chassis for the best possible protection against corrosion Reliable lubrication: VAth generously dimensioned low-pressure oil pump Furthermore, the first stage and the high-pressure final stage of the CAPITANO 140 feature piston rings made from a new high-tech plastic which are virtually wear-free. A vibration-reducing motor rocker design optimises smooth running.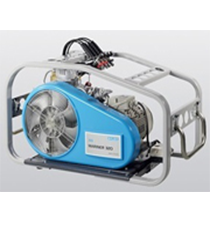 BAUER MARINER 320 breathing air compressor with electric motor BAUER MARINER 320 high-pressure compressor, rear view BAUER MARINER 320 breathing air compressor with the B-KOOL refrigeration dryer
Very high FAD free air delivery, minimum space requirements One of the most powerful mobile compressors in the world: FAD 320 1/min Available in electric or petrol version and equipped with four filling hoses in the standard scope of supply. Version for up to 420 bar also available! The incredibly durable block and corrosion-resistant components make this compressor suitable for use even under the toughest climate conditions. Thanks to the extensive range of BAUER accessories, the MARINER 320 can be customised to meet all manner of different requirements and intended uses. Suitable for use as a diving compressor, shipping compressor, for installation in yachts, as a fire service compressor, paintball compressor and in many other applications.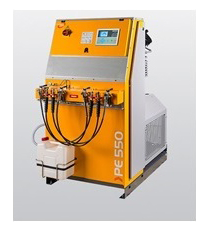 The PE-VE high-pressure compressors for universal use in diving and breathing protection Open version of the BAUER PE-VE breathing air compressor with B-CONTROL MICRO compressor control and filling panel Super-Silent version of the BAUER PE-VE high-pressure compressor without filling panel BAUER PE-VE 850 breathing air compressor with front attachment for better cooling air guiding BAUER PE-VE breathing air compressor, interior view The proven PE-VE series
For peak free air delivery up to 850 1/min Ideal for transport and breathing protection: Practically equipped and absolutely reliable in operation Compressor with BAUER quality standard: Technically advanced mirroring the state of the art The breathing air compressors in the PE-VE series are characterised by their impressive peak free air delivery rates of up to 850 1/min. The PE-VE units offer practical equipment, typical BAUER quality and certified safety for reliable stationary operation.